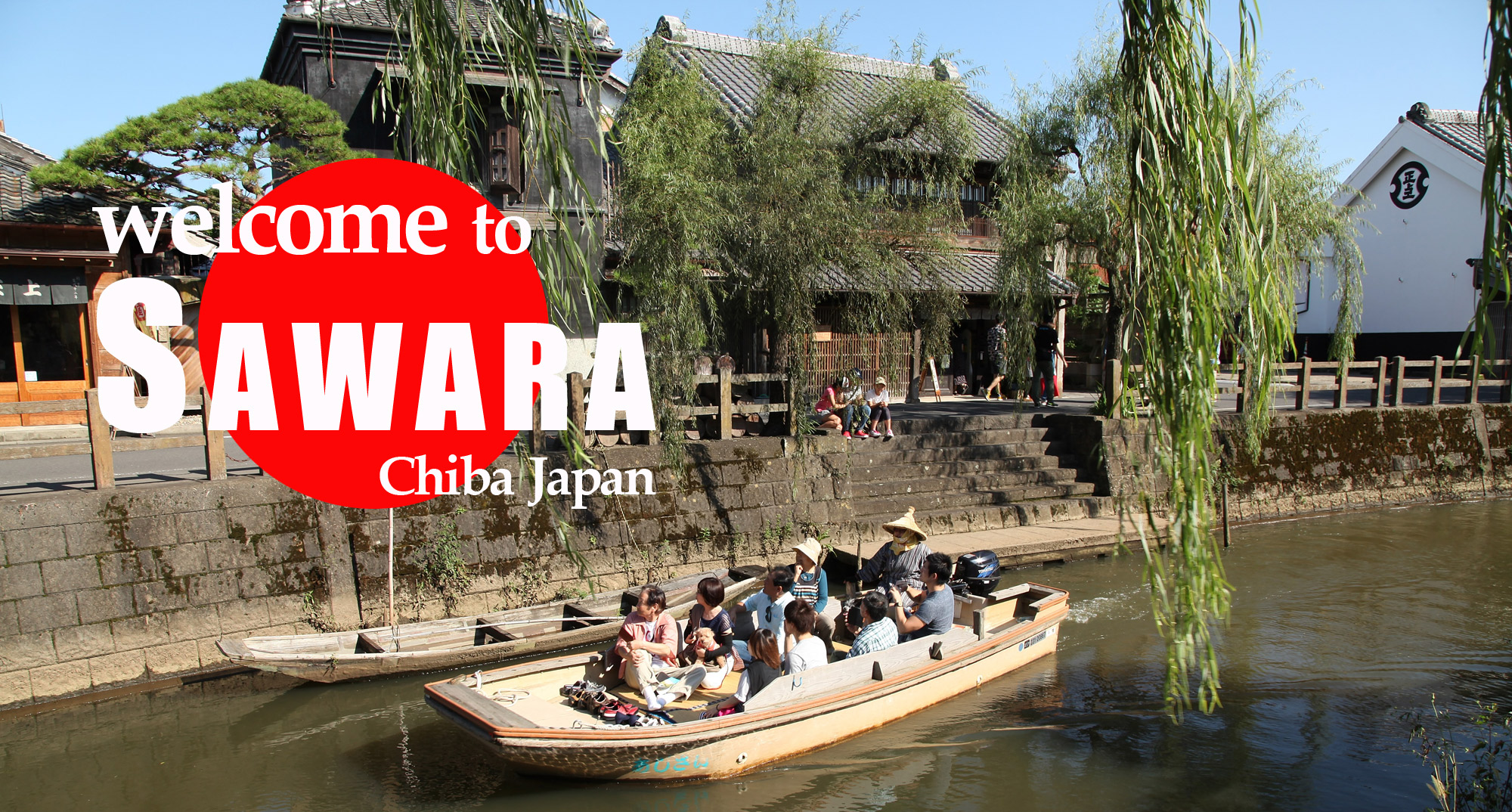 Katori City is located in the northeastern part of Chiba Prefecture, about 70 km (43.5 mi) from Tokyo and 15 km (9.3 mi) from Narita International Airport. When visiting Sawara, the main sightseeing district, you should get off the train at JR Sawara Station. The district is also accessibly by car from Sawara-Katori Interchange on the Higashi-Kanto Expressway.

During the Edo period (1603-1867), Sawara flourished with its water transportation business and was once even called "Edo masari" (superior to Edo). People there incorporated various elements of Edo culture while also establishing their own unique culture. Along the Ono River and Katori Street, there are still many buildings and facilities which remind us of Sawara's former prosperity. This area attracts many tourists to the region, with the Ono River boat tour being especially popular among sightseers. In 1996, Sawara became the first area in the Kanto region to be designated as an Important Preservation District for Groups of Traditional Building for its efforts to preserve its historic buildings and to improve the district's landscape. It was also introduced in the Michelin Green Guide Japan in 2015.

Sawara is well known as the home of Inoh Tadataka (1745-1818), the man who surveyed the geographical features of Japan and created the first map of the country during the Edo period. Many tourists visit his private home, as well as the Inoh Tadataka Museum, where his measuring instruments, which are designated national treasures, are on display. The famous Sawara Grand Festival, held in summer and in autumn, dates back to about 300 years ago and is designated by the government as an Important Intangible Folk Cultural Properties. In the festival, large dolls measuring up to five meters (16 feet) tall – the largest of its kind in Japan – are installed on floats. At the Suigo Sawara Float Museum, there is a permanent display of two floats and one can grasp a sense of the overwhelming atmosphere of the festival. Katori Jingū Shrine, one of Japan's most renowned shrines, dates back to more than 2,700 years ago and is famous for its spring cherry blossoms and colorful autumn foliage. Katori Jingū Shrine has also attracted much interest as a "power spot" – a source of mystical energy. Suigo Sawara Ayame Park, situated in the northern part of the city, holds an Iris Festival in June as its main attraction. Visitors to the festival can enjoy the magnificent scenery of 1.5 million Japanese irises of 400 varieties in full bloom. In the garden, people can also have the unique experience of viewing the irises while riding a small boat.

Visit Sawara, located 45 minutes from Narita International Airport, and enjoy its history and riverside scenery.
COPYRIGHT SUIGO-SAWARA TOURIST ASSOCIATION ALL RIGHTS RESERVED.